On Campus:
Go to the Google Scholar homepage. You can begin your search by inputting search terms in the Search box. The defaults for preferences are automatically set to University of South Carolina Columbia (USC Columbia eText) and University of South Carolina School of Medicine (Find Fulltext@ USC Med).
Off Campus:
To set Google Scholar preferences to access USC fulltext articles:
· Go to the Google Scholar homepage
· Click on the setting icon on the top right of the search window. Then click on "Library links".
· Enter "University of South Carolina" and click the Search button.
· Check the boxes for USC and USC-SOM, then save as shown in the screenshot below.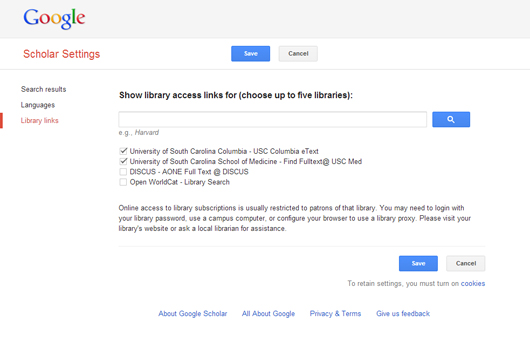 Google Scholar will now display Find Fulltext@ USC Med and/or USC Columbia eText with citations, related articles and web search in your search results.